Voted Best Walk-Around Magician in the USA
Magic Andy was Recently Named

America's Top Comedy Magician by


Streaming Soon On
Click Here to Call and Book Now
INTERNATIONAL WALK-AROUND MAGICIAN
Of all the fantastic Magic that Andy does, Andy believes that his walk-around Magic is the most vital thing he performs. Andy performs walk-around Magic for thousands of people every year. He has the unique skill of quickly forming a lifelong bond with people with his close-up Magic. Whether on Fremont Street in Las Vegas, Clearwater Beach or with one of his recurring Corporate clients like Facebook, Andy's clients rave about his strolling Magic.
Click Here to Call and Book Now
About
He has a Deep Passion For Close-Up Magic
Every time Andy leaves his home, he has Magic in his pocket. Part of being a famous Magician is that when someone sees you in person, they want to see some incredible Magic. This allows Andy's Magic to get stronger every single day. When you hire him to perform at your private event, you are purchasing a product that has been refined and perfected thousands of times.
Fill Out Contact Form
Your Favorite Entertainer
When people are asked what comes to mind about Andy's Magic, they talk about his incredible charisma and how he can quickly bring together people with his Magic. Andy's clients can't get enough of his charm.
Facebook liked Andy's Magic so much that they made a commercial video with him to promote Facebook Groups. Check it out!
Get a Quote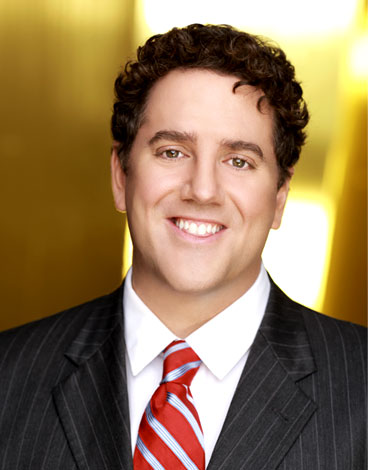 A Message from Andy
I worked for MTV and Nickelodeon when I began my career as a Comedian and Magician. During my career, I have discovered and found diverse talent from all over the world. I have helped produce events with million-dollar budgets with celebrity entertainers like Flavor Flav and Miley Cyrus. I know that it can be challenging to find the correct performer, and there are many options to choose from. What sets my walk-around Magic apart from the other Magciains is that I will form a bond with your employees and colleagues that they will never forget. In addition to personalizing my close-up Magic for your company, I have an inclusive personality. I will make all your employees and colleagues feel like they are part of something bigger. For a brief period, they will forget about their life's stress and sit back, relax, and have some fun.
Contact me about this service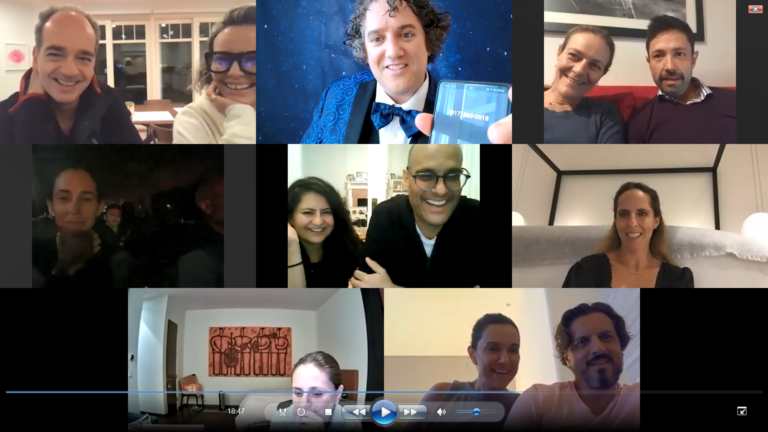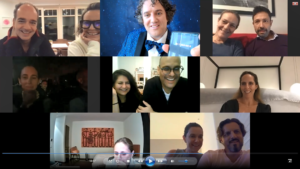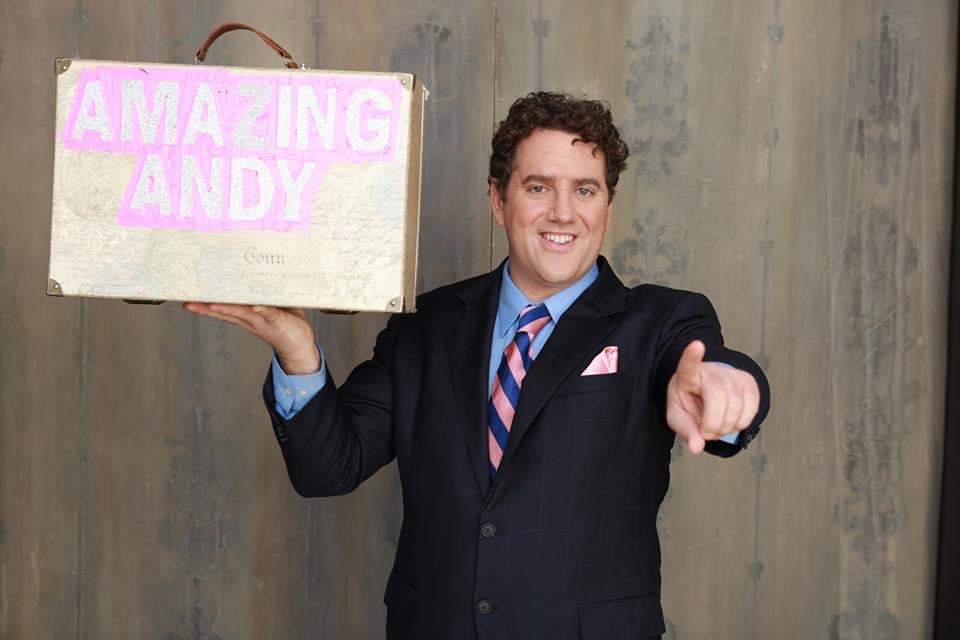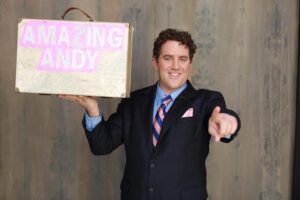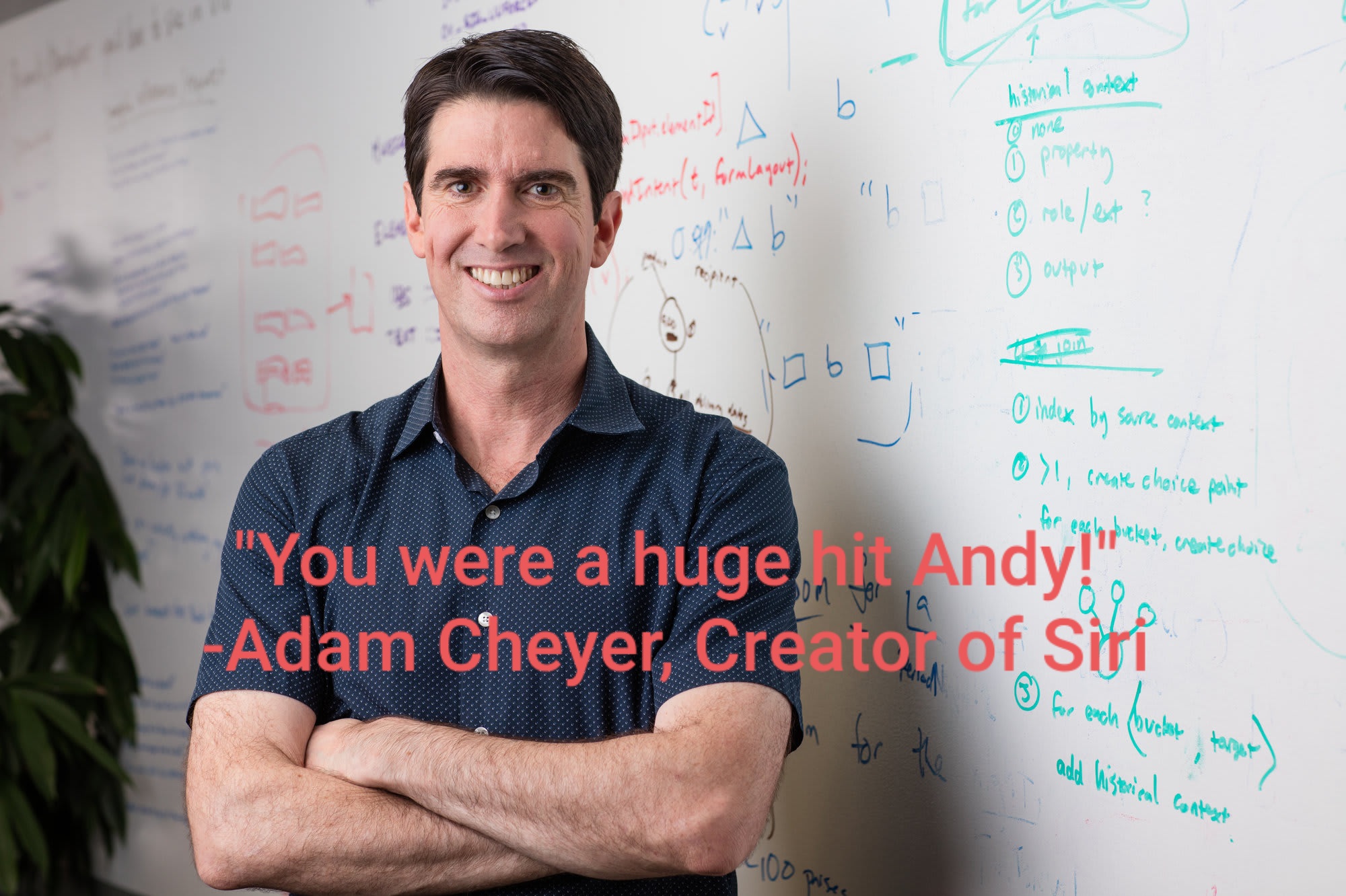 100% Customer Satisfaction Guaranteed
Andy's shows are fun for people of all ages and cultural backgrounds. He has been fortunate to have some wonderful clients who were very happy with my work and gave me excellent reviews and testimonials. Andy has a 5-star rating on Google.
"Your Virtual show was a huge hit Andy! Our Samsung and Viv Labs employees loved your show."

Adam Cheyer

Creator of Siri

"I had the pleasure of being dazzled by Andy at the Magic Castle recently. He was very funny and did some super fun tricks that I'd never seen before including a techy trick with somebody's phone. So cool! I can't wait to go back for more!"

CHRISTINA RIZZO

"Best Zoom Magician I have ever seen! Andy is an Amazing Zoom Magician. There is a reason why Samsung, Adam Cheyer, the Creator of Siri, and the Great Throwdini work with him. Hire him when you are looking for a Zoom Magic show."

Andy Dalzell

"Andy is a very skilled and entertaining magician! My friends and I have seen him five times and he always brings different material."

Ken Quartarone

"Thoroughly impressed by Andy's Magic talent. I saw him perform walkaround Magic at my friend's wedding. He was truly authentic and a great performer. If you are looking for a wedding magician, I highly recommend him."

TONY BALLARD

"We had Andy perform magic at my wedding event and my guests were blown away with his tricks. I would definitely recommend him as your wedding magician"

Aditya Guthey

"Amazing Entertainer. I've hired Andy 5 times and his Magic is always different and incredible. There is a reason why David Blaine and Penn & Teller consult with him. I'm looking forward to seeing him on March 3rd. He is an amazing talent. He is also a wonderful keynote speaker and motivational speaker."

Mary Martin

"I had the good fortune of first seeing Andy Peters perform at the world-renowned Magic Castle in L.A. He was easily the most impressive magician there that evening, which, if you are familiar with the Magic Castle, is saying something."

Thomas Norris