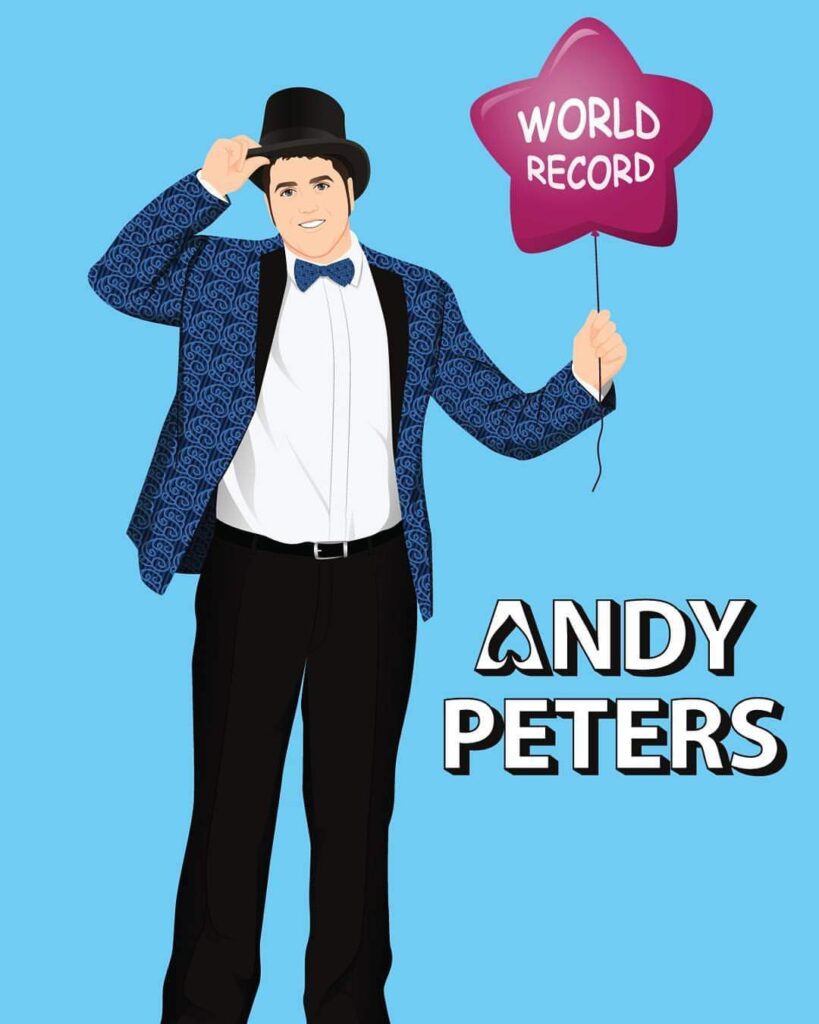 My magic career began when I was two years old. My grandfather tapped me on the shoulder one day and said, "Hey Andy, I want to show you something. I idolized my grandfather. He was a World war II hero. He took out his two front teeth completely out of his mouth and showed them to me at arm's length. He then threw them back into his mouth. I was awestruck. I said, "How did you do that, pop?" He said, "That's magic, Andy!" From there on out, whenever my grandfather came to visit, and I had friends over, I'd say, " Hey Pop, do that magic trick with your teeth!"
Long before I was named "Best Magician NYC," growing up in the suburbs of Philadelphia in New Jersey in the 1980s, no kid magicians existed. We didn't have Magic. I saw Magic on TV with David Copperfield and Mark Wilson.
Had I had the opportunity to learn Magic as a child, I would have completely done it, but I didn't know how to find it. I didn't know anyone who did Magic. So, I got really into playing sports, especially baseball and football. I kicked a 62-year-old field goal as a sophomore in high school. I went on to play football and college, and then I had a brief stent in minor league baseball and semi-professional football.
I got into doing improvisational comedy and comedy skits when I was in high school. I had a fantastic acting teacher named Mr. Evans, who greatly inspired me. He called me "The King of Comedy."  In college, I continued with my acting and my Improv, and when I graduated in 2005 from Bates college, I moved to New York to become a comedian and work for MTV networks and Nickelodeon. I feel that my experience as a stand-up comic and improvisational comedian enabled me to be named "Best Magician NYC."
After being a stand-up comic and improv comedian for ten years, I had a life-altering experience in 2014. In 2005 I signed up to be on the bone marrow registry through BeTheMatch.org. Ever since the day I was swabbed to become on the bone marrow registry, I always thought that someday I would get a call to be a bone marrow donor, even though the odds of becoming a bone marrow donor are like one in a hundred thousand.
I will never forget when I got the call to become a bone marrow donor; as soon as the phone rang, I felt this would be the big call. When I got the call from the donor registry, they asked me why I thought they were calling. I said, "You are calling to ask me to become a bone marrow donor." They were dumbfounded about how I knew that, and they went on to explain how I was a possible match for a two-year-old boy with leukemia. I accepted on the spot.
The next day they sent me blood tests via FedEx, and I got tested for every disease known to man. I was very nervous because I've been to some sketchy places in the world with many diseases, like Madagascar, but everything came out okay. Two days later, I got another call from Delete Blood Cancer, DKMS, and they said they had some good news for me. They said that I was a "Perfect Match" for the boy.
No one had called me "Perfect" in a very long time, and it felt amazing. Three months later, after the boy had completed his chemotherapy, I made my donation.
It was a very magical experience. I decided I wanted to be an excellent example for the boy during my donation. If I ever got to meet him, I would go for my dreams if I met him. At that very moment, I decided to become a professional magician.
I began practicing, and within two years, I was accepted as a magician member of the world-famous Magic Castle. I don't know where I'd be without Magic. In layman's terms, it's like a very passionate hobby that you can't give up.
I attended a Toastmasters conference in 2014, and the keynote speaker said, "What would you do if you had all the money in the world and could do one thing?" For me, that would be Magic. Even though I would have millions and millions of dollars, I would still do Magic. It is so much fun for me. It's better than a vacation.
I love seeing people's expressions on their faces and hearing their laughs and their voices; when I do my Comedy Magic. Every year my Magic gets ten times stronger. In the past couple of years, I feel like it's getting a hundred times stronger every year because I'm getting stronger and stronger.
Learning Magic is sort of like going to the gym. In the beginning, you're out of shape and have trouble with your cardio and lifting heavy weights, but the more you practice and compete, the more powerful you become. Doing Magic is better than going to a resort in Hawaii. It is so relaxing and brings me so much joy and happiness. I think that's one of the big reasons why my clients hire me. Not just because my comedy and my Magic are powerful, but they can tell that I'm doing what I love, which comes across in my work.
I do not know where and how I will end up in my magic career. As a two-year-old boy, I never dreamed of being named the Best Magician NYC or "America's Top Comedy Magician" by Facebook. I work hard every day to be the best Magician I can be. Yes, I would love to be on Jimmy Kimmel Live, America's Got Talent and Saturday Night Live, but as my mom always told me, do your best.
One thing I do know is that I set a good example for the young boy with leukemia and encouraged him to pursue his dreams. I ended up saving the life of the two-year-old boy with my bone marrow donation. The boy is now ten years old, and his name is Lucas. He lives with his parents and younger brother in Sao Paolo, Brazil. We haven't met in person yet, but we do face time together from time to time.
I asked Lucas what he wanted to be when he grew up. He said, "I want to find the cure for cancer." I replied to him jokingly, "Are you sure you don't want to be a Magician?". Lucas has a beautiful childhood, and he loves Magic, skateboarding, and playing the trumpet. Our dream is to perform together on America's Got Talent one day and inspire more people to become bone marrow donors.